What happened next? Ally Elouise on Prom Ally's glittering success since winning One To Watch 2021
5 October 2022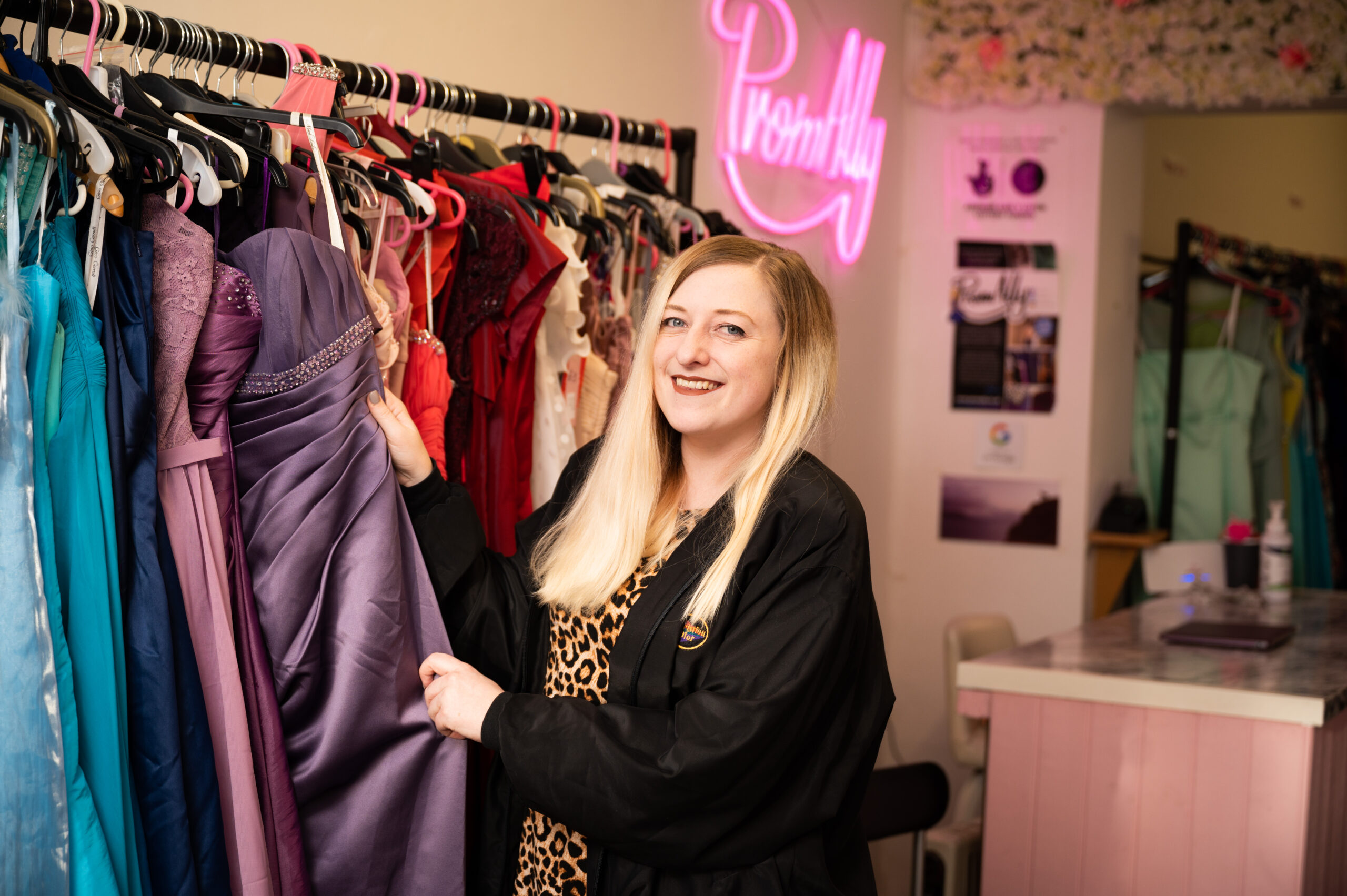 In the run up to this year's Social Business Wales Awards, we caught up with Ally Elouise, founder of Prom Ally CIC to see how the social enterprise has developed since winning last year's 'One to Watch' Category!
In a nutshell, what does Prom Ally do?
"Prom Ally CIC is a social enterprise that offers the free loan of a prom dress or suit to teenagers who are in financial hardship. This is done through an online referral process. We help teens referred from school welfare departments, social services, youth charities, food banks and other local authorities. We don't buy any of our dresses or suits new and rely on donations from the public as well as prom or wedding shops. We also run a sustainable hire site called Eco Wardrobe where we hire out formal dresses for occasions such as the races, graduations, wedding guests, award shows and cruises. This is to raise funds for Prom Ally as well as encouraging recycling and re-using garments through a rental process rather than buying a new outfit for each event."
What did it mean for you to win One to Watch?
"Winning the One to Watch award last year was a huge achievement for Prom Ally CIC. After struggling through COVID-19 with all events being cancelled and having to fundraise to stay open, the recognition of this award meant so much to the whole team. Not only did the win mean a lot to Ally, the founder of Prom Ally but also to the board of Directors, the Duke of Edinburgh volunteers as well as the supporters. Prom Ally CIC gained lots of good publicity from the win and having such an accolade behind the the enterprise really helped in securing more funding and support!"
What's changed with Prom Ally since winning?
"Since we won, we used the new-found publicity and press to promote our hire site Eco Wardrobe. We have spent the year marketing this and trying to raise awareness of what we do. This includes attending schools and colleges to try and change young peoples attitudes to the fast fashion industry and why it's important to shop more sustainably. We have also taken our Duke of Edinburgh volunteers on again to take part in their Silver volunteering placement and we took on a work experience student too. Most importantly, after winning the One to Watch award we went into our busiest prom season to date. We received 316 online referrals for help with a free prom outfit this year and that doesn't even include the amount of young people who came to our Llandudno shop to purchase an affordable pre-loved outfit too! We also won a Start Up Award for Social Enterprise of the Year in Cardiff and an item about our free prom dress service was featured on BBC Wales!"
How do you feel about being nominated for Tech for Good for this year's awards?
"We're so honoured and excited to be nominated for the Tech For Good category this year at the Social Business Awards. Winning this award would mean an unexplainable amount to us all. Myself (Ally the founder), Alex (Alex Wan) who does our graphic design and marketing, Luke (Offhand Photography) and the Board of Directors have worked so hard this year on our Eco Wardrobe hire site. We have organised countless photoshoots with so many beautiful members of our community as models. We have put so many hours into making the Eco Wardrobe site look stylish and function amazingly. In addition to this, the Prom Ally referral form was all online and was used more than ever before. We liaised with the schools, the referees, the parents and then teenagers through emails and online communication. We publicised and promoted everything through social media such as Facebook, Instagram and even Tik Tok. A viral post got over 43,000 shares and resulted in our social media following increasing by a lot in a short amount of time. We really believe that we use Tech to help social issues, environmental issues and much more!"