We have a winner! Co-operators of Tomorrow key stage 2 competition
14 December 2022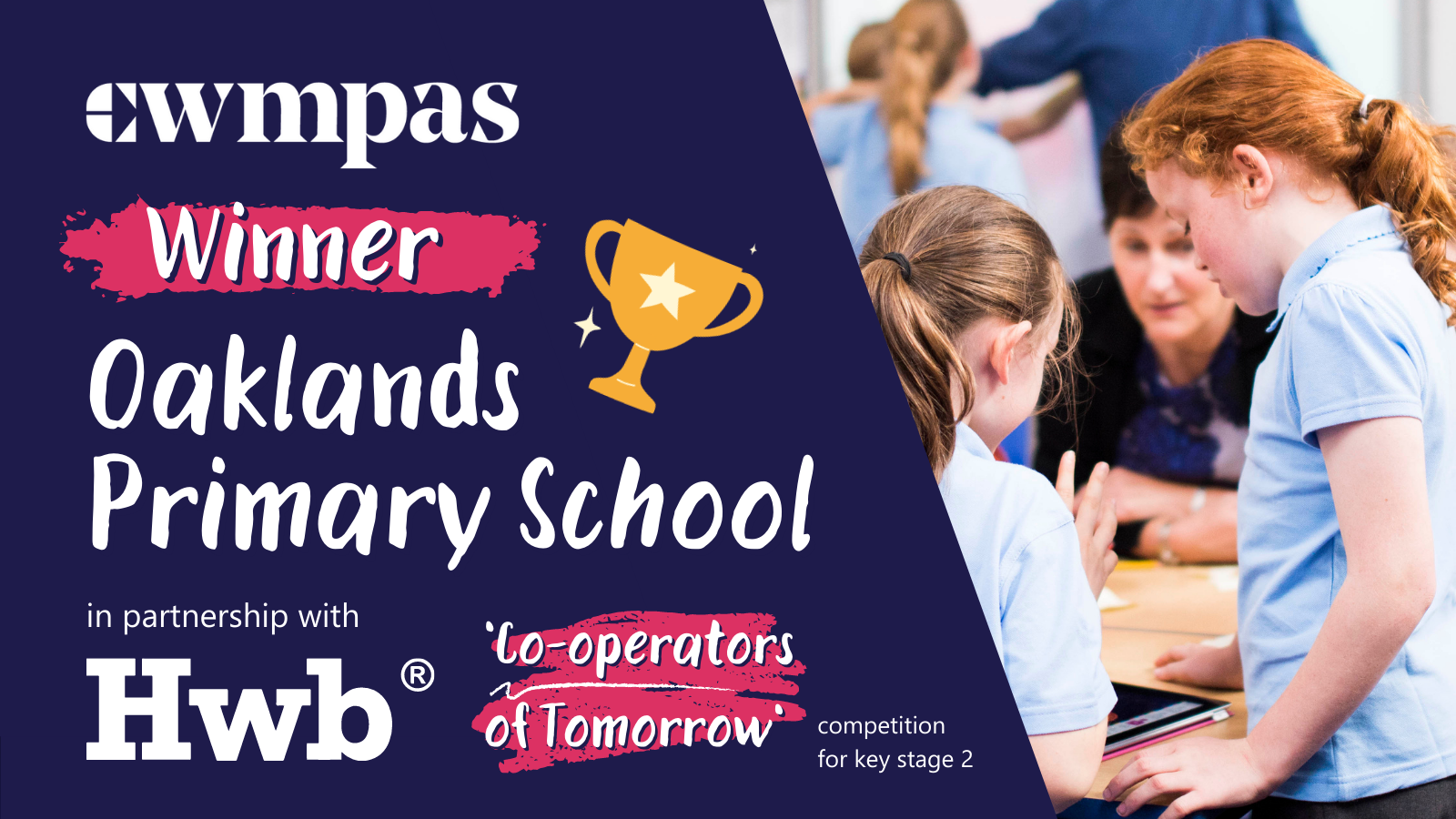 The results are in. The winner of Cwmpas and Hwb's 'Co-operators of Tomorrow' key stage 2 competition can be revealed…
Congratulations to Oaklands Primary School of Aberaman!
Dosbarth Derw (Year 6) of Oaklands Primary School takes 1st prize for their 'Co-operators of Tomorrow' competition entry.
The competition, arranged in celebration of Cwmpas' 40th year anniversary, encouraged learners to answer the question: 'Thinking about the place where you live, what could be better 40 years from now if people co-operated more?'.
Making use of a range of creative tools available through J2E, Dosbarth Derw's submission came in the form of an impressive webpage, created through J2E's 'j2webby' tool.
Their final ideas were presented under headings of their identified areas of community improvement – heritage, agriculture, entertainment, food and drink, and leisure and sports. The class had ideas for more electric cars and charging stations, a health and well-being boosting community garden, a zero-hunger kindness café, a clean energy sustainable youth club featuring a kinetic dancefloor, and a safe space equality gym.
What impressed the competition's six judges from Cwmpas, Hwb and Natural Resources Wales further, was the collaborative process in which Dosbarth Derw came to their final decisions on what a better future for their area would look like.
How they did it
Using the competition to explore their 'We are the world: How can a person change the world?' humanities class theme for the Autumn term, Oaklands' Year 6 pupils were thorough in their research and planning, while demonstrating co-operative methods of decision-making.
After identifying their five key areas of improvement, the class invited local community champions and business owners to the school and interviewed them about the future of their community.
Gaining insight from the interviews, Dosbarth Derw then came together for a mind-mapping exercise to brainstorm their ideas. In groups, they decided on the best five ideas for each of the identified areas, before using j2vote to vote as a class on the final community projects to pursue.
With their projects outlined, the class once again split into their groups to create a presentation using J2E for each of their five final ideas.
Their presentations featured an assessment of community assets they already had in the areas around Aberaman, what was missing in the locally that could contribute to achieving the United Nations' Global Goals, how their projects would benefit the local area, a detailed action plan to achieve their objectives, as well as posters encouraging local people to take up and use their community projects.
In a video at the bottom of the webpage, two pupils from Oaklands Primary School the wrap up their entry by saying:
"We hope that you are as pleased with our ideas as we are. We have really enjoyed thinking about our community and how it can be improved in the future. These are themes we are taking into the Spring term, where we will look at Global Goals in more detail and at renewable energy sources. Diolch yn fawr, hwyl fawr."
What the competition judges had to say
"The submission from Oaklands Primary School was excellent. It didn't just mention co-operation but had co-operation embedded throughout the whole exercise. The ideas were lovely and were designed with the whole community in mind which is essential with setting up any community business. A lot of work and thought went into this and it really was a fabulous effort." – Hannah Morris, Business Advisor at Cwmpas.
"Brilliant ideas for co-operation within the local community. Excellent use of creative tools and very well thought through ideas that help to support the UN development goals through co-operation. I can see how these ideas would benefit everyone within the local community and I love the inclusive nature. These ideas would definitely help to improve the environment in Rhondda Cynon Taf. I think I would visit the café and the sports club and would love to see the kinetic dancefloor in operation!" – Rusell De' Ath, Senior Specialist Advisor at Natural Resources Wales.
What they've won
As competition winners, Oaklands Primary School's Dosbarth Derw will receive a winner's trophy, a hamper of goodies from social businesses in Wales to share amongst the class, as well as an experiential visit from a nearby social business to further inspire and give the pupils insight into how business can benefit the local community.
A big well done from all at Cwmpas and Hwb to Oaklands Primary School's Co-operators of Tomorrow!