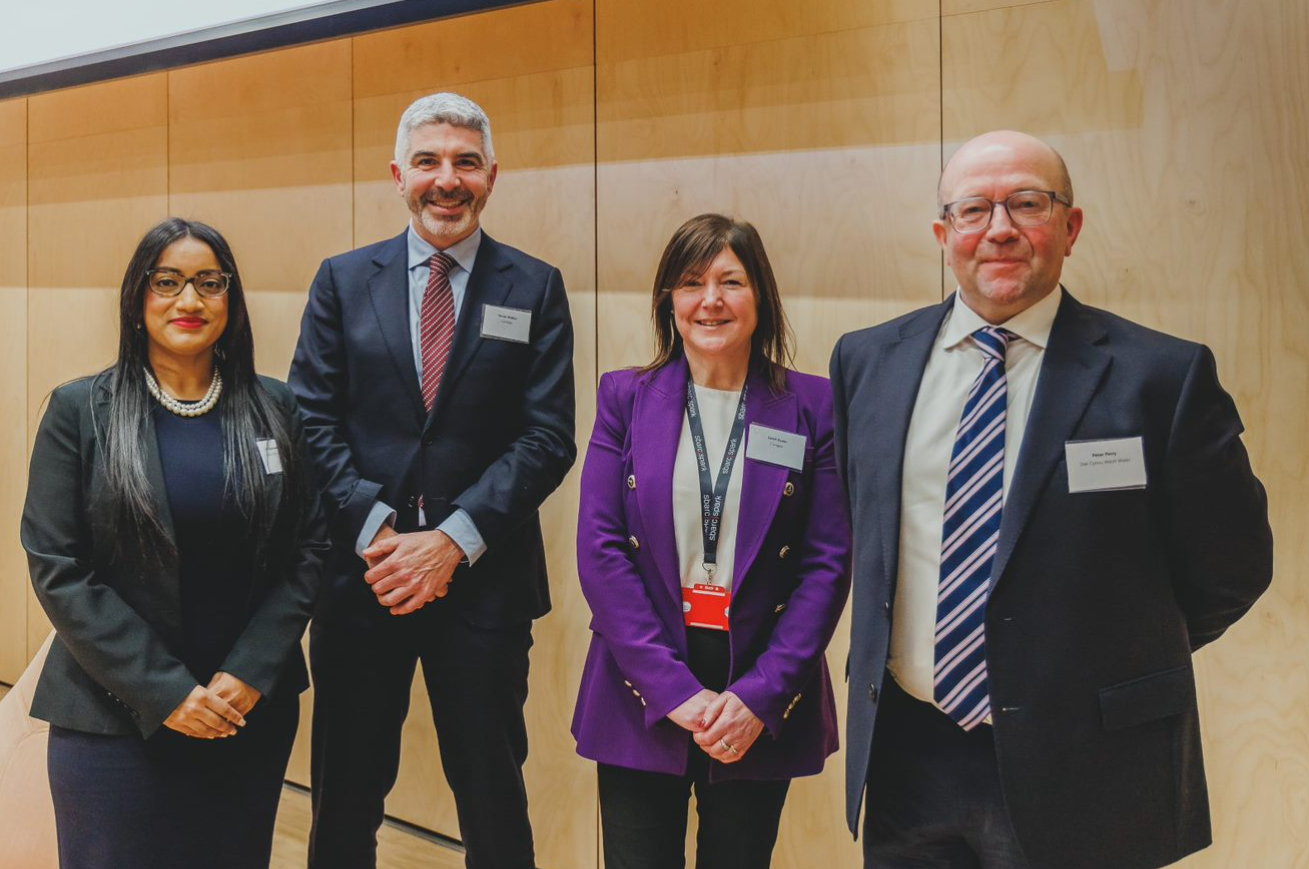 We were delighted by the success of our recent Social Value and Sustainability in Wales event, held on Thursday January 19 at Spark, Cardiff University. The event – hopefully the first of many was an opportunity for us, here at Cwmpas, to reconnect with our clients and business partners and focus on positive change through social value and sustainability.
The event started at 3:30pm with registration, tea and coffee, before our Commercial Director, Dr Sarah Evans, introduced our highly experienced and knowledgeable guest speaker, Peter Perry, Chief Executive of Dŵr Cymru.
Peter was appointed Chief Executive Officer of Dŵr Cymru in April 2020, following prior roles as the organisation's Managing Director from October 2017 and four years as its Chief Operating Officer.
As Chief Executive, Peter has brought a clear vision to the work of Wales' main utility provider. The Well-being of Future Generations Act is front and centre of his 2050 corporate vision; well-being commitments are reported on each year, and the Act's ways of working are a key part of how Dŵr Cymru now operates..
During his presentation, Peter discussed how they were able to turn Dŵr Cymru (Welsh Water) into an organisation creating a better value service for customers, with a long-term view of its stewardship of resources. He described how they did this through its unique 'non-shareholder' model, low-cost, long-term financing (via a £1.9 billion bond – the largest ever non-Government backed bond issue), and strong corporate governance – with a majority non-executive board.
The result of which is greater investment into infrastructure, a better service, lower bills for customers, and increased affordability overall with an enhanced – and now enviable – reputation. He explained how all these aspects work in harmony to create a genuinely community-focused business model, where all the gains go towards the customer.
Following Peter's informative and inspiring talk , we had an open discussion and Q&A, with our panel, which included our CEO, Derek Walker, and Dr Hushneara Begum, Director at the Centre for Sustainability.
Derek has been the CEO of Cwmpas for over 12 years now. During this time, he has become a familiar face at movement conferences and gatherings across the country. Derek has helped to reorientate our organisation's work to focus on sustainable development approaches. He has also overseen programmes that have led to a significant growth in the number of co-operatives, social enterprises and employee-owned businesses in Wales. In addition, Derek will soon be replacing Sophie Howe after her tenure in the Welsh Government role ends as Wellbeing and Future Generations Commissioner.
Dr Hushneara Begum is Director of the Centre for Sustainability and a leading subject matter expert in Sustainable Public Procurement and Supply Chain Management – with a special focus on low carbon. Dr Begum established the Centre for Sustainability as a social enterprise, to lead and support as a catalyst in areas such as Sustainable Procurement, Supply Chain Management, the Circular Economy, Net Zero and Carbon Literacy.
Dr Begum is also a Non-Executive Director for Welsh Government's 'Industry Wales' body and offers a wealth of knowledge and experience at the forefront of governmental, industrial, and societal change.
During the Q&A, the panellists all agreed that there needs to be more urgency in decision making, which will allow change to accelerate – with businesses needing to act now.
Another salient point raised was that many corporate and governmental leaders aren't necessarily educated and informed as much as they need to be on social value and sustainability – a key issue that we, here at Cwmpas, are passionately engaged in rectifying. We believe – and this is something the whole panel agreed upon – that this is of vital importance to drive the Wellbeing and Future Generations Act in Wales.
Commenting on the event, Dr Sarah Evans, Commercial Director, Cwmpas, said:
"It was a pleasure to have Peter Perry as our guest speaker for the afternoon and have the opportunity to bring clients and business partners together to discuss the key issues affecting Wales.
"There was a clear message from our panel that change needs to happen and we need to bring urgency to social value and sustainability in Wales. This event will be the first of many to come where we can spark a healthy debate around creating a prosperous Wales."
Our next event is due to be held at Yr Egin in Carmarthen on April 19th. To register your interest, please email gwenllian.thomas@cwmpas.coop
Find out more about our consultancy work
(Picture – L to R: Dr Dr Hushneara Begum, Derek Walker CEO, Cwmpas; Dr Sarah Evans, Commercial Director, Cwmpas and Peter Perry, CEO Dwr Cymru]