Co-op housing in lockdown
Living in co-operative & community-led housing during COVID-19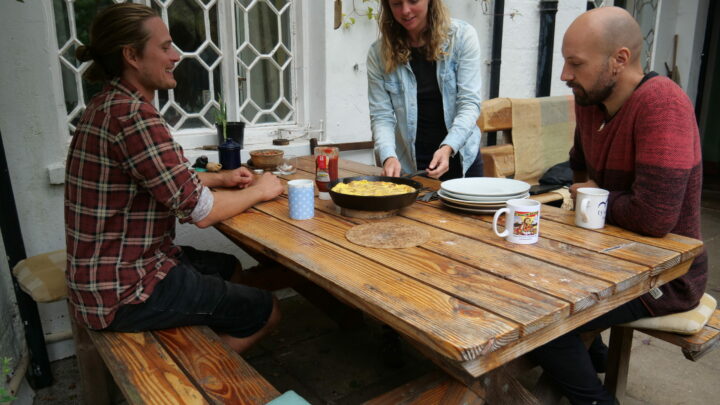 A year after the country was first plunged into lockdown to protect people and public services from the worst effects of the Coronavirus pandemic, Communities Creating Homes, the Wales Hub for Community-led Housing (CLH), published research into how residents endured and survived the pandemic.
In Autumn 2019, we published an initial piece of research which put into words what we felt we already knew.
Residents living in this type of housing do experience a large range of benefits from living in their schemes including a greater feeling of community and less feelings of loneliness and isolation. Since the first lockdown, the negative impacts of the restrictions including a decline in mental wellbeing and an increase in people feeling isolated have been widely reported and remain a concern.
At Communities Creating Homes, we were interested in understanding the lived experiences of people in CLH schemes during the lockdown and how much of their experience could be attributed to their co-operative and community roots.  We knew this would complement and build upon the first piece of research so we commissioned The Social Effectiveness Research Centre to ask these important questions.
 The picture that has been captured was a positive one telling us that many people living in CLH felt more supported and less isolated than they may have done in other types of housing.
During the pandemic, we have all seen media reports about community members who have galvanised themselves and perhaps we have ourselves been involved in activities supporting those who are vulnerable and less able. As a CLH hub, we have been impressed by how our clients have displayed co-operative values and helped their wider community.
The positive impacts that residents taking part in the research attributed to living in CLH as opposed to if they lived in other types of housing reflected these co-operative and community values and included:
Reduced isolation and loneliness

Greater financial security

Better physical living conditions (e.g., more outside space)

Reduced psychological/mental distress

Closer links to the wider community

Greater practical support (e.g. day to day tasks, shopping, etc…)
I feel very fortunate to have been here for the lockdown as I have felt protected and supported, otherwise I would have been entirely on my own.  The support has been physical and psychological, and I have space to move around in.  We have experience in respecting each other's wishes, which helped with social distancing.  These things are, I believe, unique to cohousing.
This research has been commissioned by Communities Creating Homes, which is delivered by Cwmpas with support from DTA Wales and is funded by the Nationwide Foundation and Welsh Government.
For more information about CLH and how your organisation can get involved email our team at co-op.housing@cwmpas.coop
If you are interested in learning more about co-operative and community-led housing, please visit