Learning and Development
As a Gold level Investor in People, we are committed to your learning and development, and at Cwmpas that starts before you even arrive!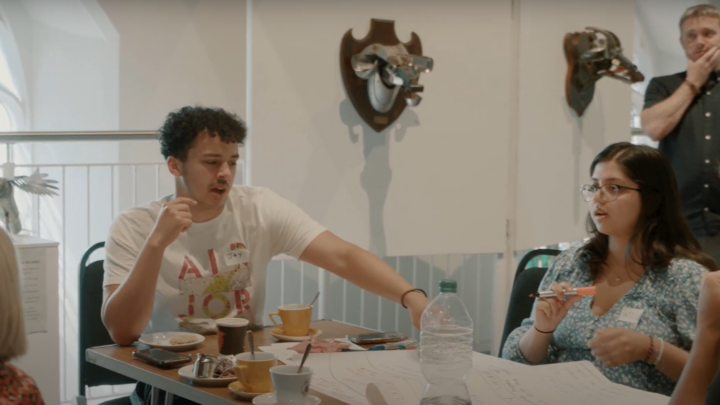 We want you to reach your full potential and we have a variety of routes to ensure that happens. For us, learning and development is not necessarily just about attending training courses, but is a continuous journey to achieving your career goals.
Our learning and development programme starts with a tailored on-boarding plan which introduces you to the organisation and ensures that you fully understand each of the projects which we deliver, where you fit and how you contribute to achieving the organisation's objectives. Your manager will talk openly and regularly about your career goals and will help you to develop the skills needed to achieve them.
Learning takes place through various methods including knowledge sharing sessions, mentoring, coaching, job shadowing and secondment opportunities, as well as scheduled training events. We also support accredited work-related courses in order for staff to attain a nationally recognised qualification.
See below for testimonials from our staff about their career progression within the business and how Cwmpas has helped them develop:
Laura – From Trainer to Training Manager
Hi I'm Laura Phillips and I am one of the Project Managers for Digital Communities Wales: Digital Confidence, Health and Wellbeing. I joined Cwmpas in August 2017 for a fixed term for 9 months, and I am still here, years later!
I started at Cwmpas as a Trainer for the Digital Communities Wales Programme, and I have worked my way to being a Programme Manager, leading on the training outputs of the programme. I couldn't have done it without the formal and informal guidance, mentoring and support from colleagues across the organisation.  I have been given an opportunity to complete an ILM qualification in Leadership and Team Skills. Having the opportunity to complete this funded course during my work time provided me an opportunity to consider my career progression, and gave me a qualification to support me in gaining promotions within the organisation.
I have had both formal and informal mentoring here at Cwmpas, and from that support and guidance, I've been able to grow and develop as a new manager. It's given me the skills to be able to confidently grow in my role.
Glenn Bowen – From Community Development Worker to Director of Enterprise
Hi my name is Glenn and I have worked for Cwmpas for over 25 years. I started straight from college as a Community Development Worker, helping communities across the South Wales Valleys to set up new social enterprises. During my career I have learnt new skills from colleagues and from external training provided by Cwmpas, I have also had opportunities via a secondment to a local authority, where I was able to learn new skills around project management, finance and HR and bring those skills back to Cwmpas. I have been lucky enough to hold a number of positions including Project Manager and more recently as Director of Enterprise, which means I form part of the Senior Leadership Team. There have always been opportunities within Cwmpas to help people grow and develop, I have recently completed a temporary role as Interim Chief Executive whilst we recruited our new permanent Chief Executive. Reflecting on my time here and my journey makes me really proud to be part of an organisation that supports team members and helps them grow.
David Madge – from Market Development Adviser to Project Manager
Hi, my name is David and I am currently the Regional Programme Lead for Cwmpas. I have been lucky enough to hold a number of positions in Cwmpas over the last decade. Since 2011 I have worked on two funded projects in market development roles, worked in the communications team and most recently, as a project manager on Social Business Wales. Amongst the reasons that I have stayed with the company for so long are its learning culture, commitment to staff training and continuous professional development.
I have been supported with my ongoing commitment to maintain Chartered Marketer status (which involves continuous professional development activity) and with training relevant to each of the roles I have held, including courses in marketing and project management. Recently, I have attended courses on people management, wellbeing and coaching and I was also selected to undertake an in depth course on service design. Cwmpas' commitment to training and development has been a major factor in allowing me to develop my career within the company.