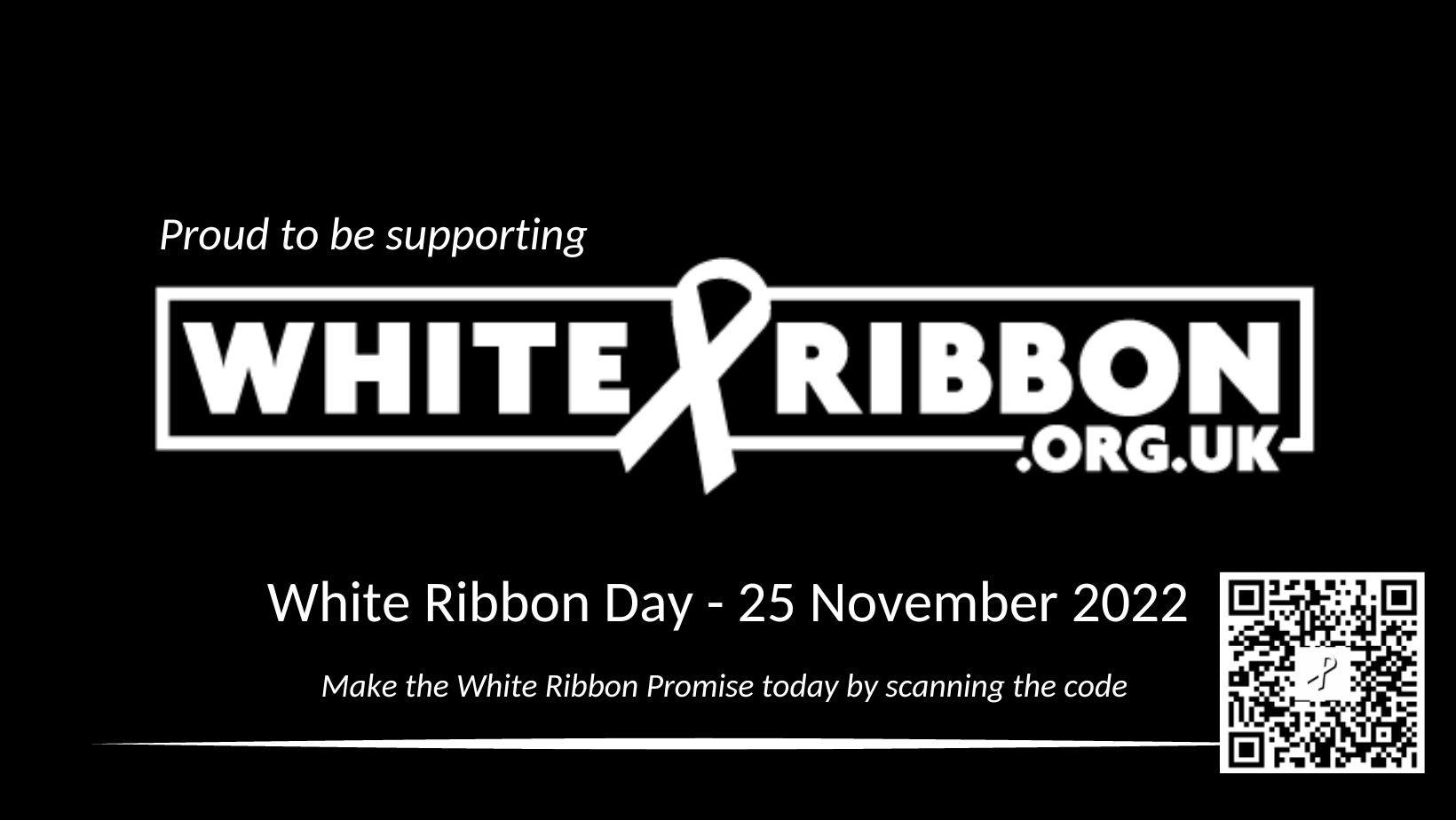 On the 25th of November 2022 and throughout the 16 Days of Activism Against Gender Violence, Cwmpas will mark White Ribbon Day 2022 by using our platform to promote and champion the incredible work being done across Wales to End Violence Against Women.
This year, White Ribbon Day falls on the same week as the launch of the FIFA men's World Cup, and #TheGoal campaign will invite all men can join the team to end violence against women and girls -that's #TheGoal.
Cwmpas was accredited by White Ribbon in February 2022, and pledged to never commit, excuse, or remain silent about violence against women.
About Violence against Women, Domestic Abuse, and Sexual Violence (VAWDASV)
Violence against women and girls (VAWG) is one of the most widespread, persistent and devastating human rights violations in our world today remains largely unreported due to the impunity, silence, stigma and shame surrounding it.
In general terms, it manifests itself in physical, sexual and psychological forms, encompassing:
intimate partner violence (battering, psychological abuse, marital rape, femicide);
sexual violence and harassment (rape, forced sexual acts, unwanted sexual advances, child sexual abuse, forced marriage, street harassment, stalking, cyber- harassment);
human trafficking (slavery, sexual exploitation);
female genital mutilation; and
child marriage.
In England and Wales, two women a week are killed by a current or former partner each year.
ONS statistics for England and Wales for the year ending March 2020 show that 1 in 5 women are victims of sexual assault (or attempted assault) in their lifetime, over 27% of women had experienced domestic abuse since the age of 16, and 20% of women aged 16-74 had experienced stalking since the age of 16.
In Wales during 2019/20, 2,522 survivors (adults and children) of abuse accessed refuge-based support, with 289 children and young people were living in emergency refuges each quarter of last year.
574 survivors were unable to be supported in refuges because of a lack of service space, capacity or resources.
Fundraising
We're raising funds for the White Ribbon campaign with our Men's World Cup sweepstake, where colleagues have donated £5 per country taking part in the tournament. 70% of the total prize pot will be donated to White Ribbon, and 30% will go to the lucky winner.
We will also invite colleagues to add a white ribbon to our White Ribbon tree to represent the victims of violence against women at our December staff meeting. We will be asking for a voluntary donation for each ribbon, which will then be donated to the White Ribbon campaign.
Sharing our platform
On the International Day for the Elimination of Violence Against Women and Girls (25th November 2022) and during the 16 Days of Activism Against Gender Violence (25th of November to the 10th of December), we'll be using our platform to raise awareness of the services and organisations across Wales supporting survivors of abuse and violence.