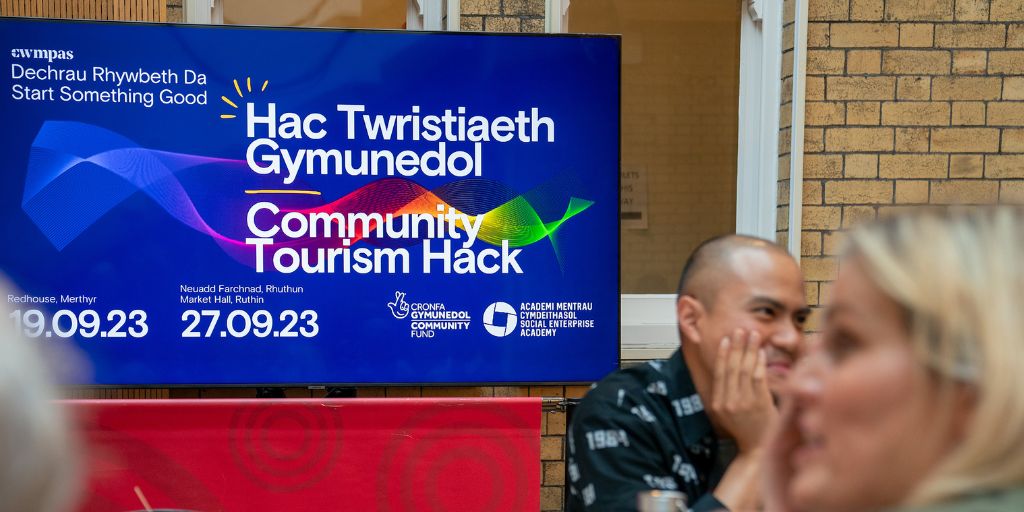 On 19th September, Cwmpas held a Start Something Good® Community Tourism Hackathon for South Wales. As one of the facilitators, my head is still spinning from the energy in the room that spawned many new connections and conceived multiple ideas for the South Wales tourism community.
All the hard work and enthusiasm came from a diverse set of participants from 24 different organisations that included multiple local authorities, Valleys Regional Park, Tempo Time Credits, BikePark Wales, Techniquest, Near Me Now, and Groundwork Wales to name a few.
The challenge of the day was to find fresh ideas to the problem "How can communities be better involved in generating tourism?"
As per the general structure of Start Something Good® hackathons, the day involved the following:
Multiple, small, diverse teams were created.
Each team was encouraged to share their strengths such as their networks, experience, knowledge etc.
Teams were asked to look deeper into the current situation in order to highlight any barriers.
The teams were then taken through an ideation exercise to help then identify ways in which they can use their combined strengths to find a solution.
Protypes of each idea were then created to test their viability.
Each team then shared their idea with other teams for feedback before pitching their idea to the other attendees.
Although this was only a "mini hack" aimed to create multiple ideas, the response was very impressive:
Pitch 1: Merthyr Community Farm
A community/visitor farm and riding centre run by volunteers, schools and social prescription services that acts as local food supplier while educating future generations on environmental issues such as solar and wind power.
Pitch 2: Ask a Five-Year-Old
Tapping into the naivety and positive outlook of younger generations, "Ask a five-year-old" aims to generate ideas by asking children of their proposed solutions to problems, with adult intervention for any practical application.
Pitch 3: Green Welcome
Creation of green public spaces with seed funding and a circular economy approach to resource use.
Pitch 4: Tourism Brand ID
Create a joined-up approach identity for tourism within South Wales by connecting small and large organisations for joint bidding opportunities.
Pitch 5: Positive Images
Capturing and sharing images of/for 'civic pride' in community, with digital boards to display these images. Using boards to promote one valley in another.
Pitch 6: Merthyr on the Map
Bringing international attention to Merthyr by making Merthyr the home of the craft festival for Wales (similar to Cardiff Singer of the World and the Hay on Wye Book Festival), using the world-famous work of Margaret Watts Hughes as its foundation.
The event was part of the Imagining New Futures project, funded by the National Lottery Community Fund UK. We now hope that some of the teams will apply for one of the small community grants available through the project to support local tourism.
At the event, the participants were treated to a first-class presentation from local historian Chris Parry on the history of the area and the local tourist destination, Cyfartha Castle, and were provided with a brief update of Merthyr's wider tourism offer from Lyndsey Handley of Merthyr Tydfil County Borough Council.
So, with the South Wales event over, the Start Something Good® team are now turning their attention to the North Wales Community Tourism Hackathon in Ruthin on 27th September. If anyone would like to join, reservations can still be made up until 26th September. To reserve your place, please visit the Eventbrite Link:  https://www.eventbrite.co.uk/e/hac-twristiaeth-gymunedol-community-tourism-hack-tickets-699529540687
We hope to see you there!
Paul Stepczak – Business Growth Consultant for Cwmpas and Start Something Good® Facilitator