Lessons from Liverpool: how we can make community led housing a reality
22 November 2022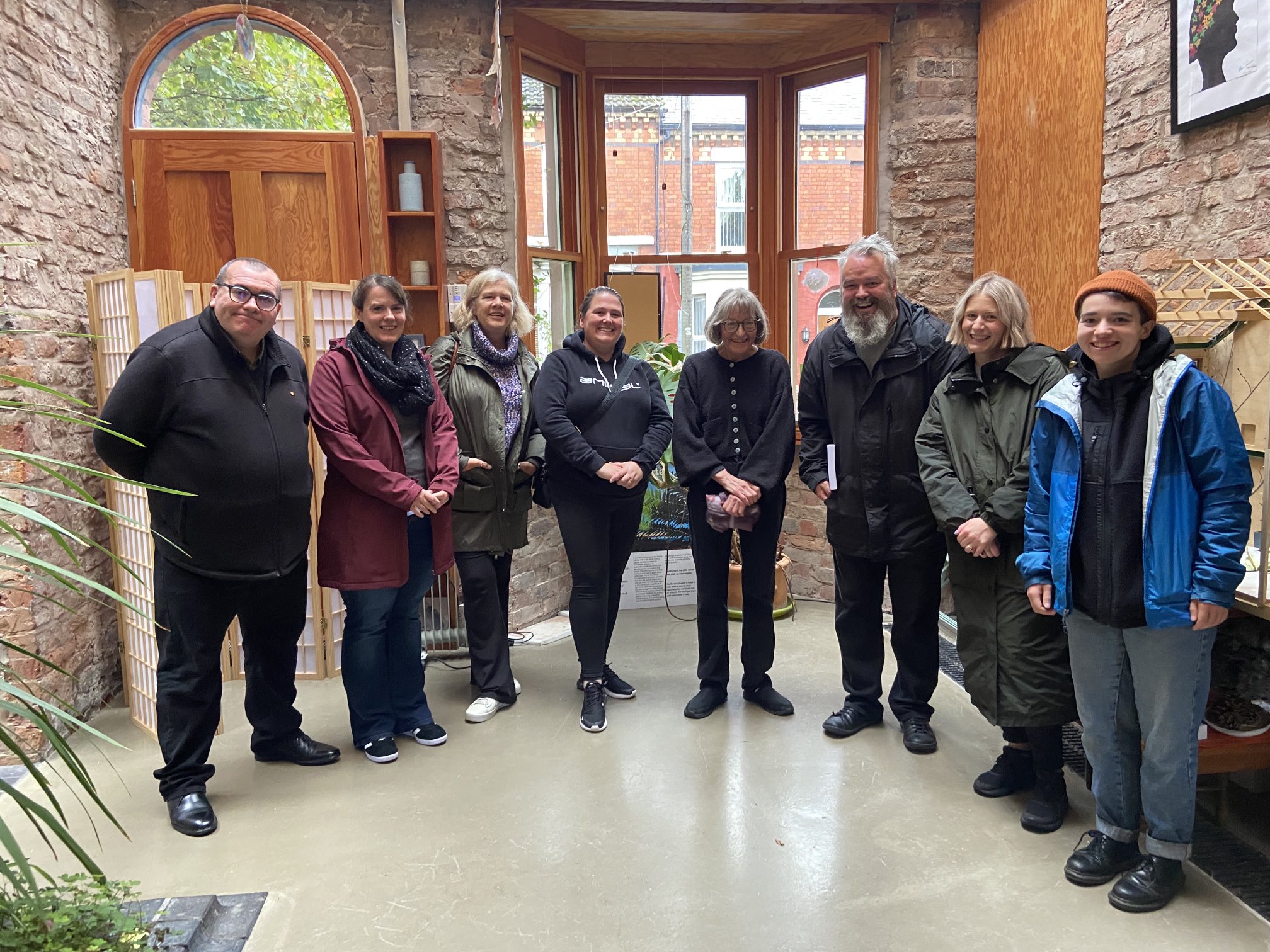 The Communities Creating Homes Team, Wales's Community-Led Housing Hub, visited Liverpool in October, upon invitation of the team at Safe Regeneration. This offered the opportunity to bond as a newly expanded team and open our eyes to the inspiring community-led housing projects happening across the city.
Liverpool was an obvious destination for a two-day trip to see inspirational, community-led housing in action. The city is home to a successful community land trust movement spanning back to the 1970s, some 50 housing co-ops across Merseyside – and they're not stopping there! We spoke to residents and community groups from across Liverpool who are pushing forth developments – against the odds – to deliver quality, affordable housing. They are demonstrating the power of communities who collectively stand-up for a different housing model. And they say loudly; we want quality, affordable, low-carbon, community-driven housing!
Our first stop, 'Safe Regeneration', a community organisation based in Bootle, which manages a thriving community hub. St Mary's Complex – a former primary school building, housing dozens of creative and business opportunities – and The Lock & Quay, a community pub. Their vision for the future is bold and exciting – a £33 million community-led housing, enterprise and leisure development, that includes over 150 new homes across the local Bootle area. When they struggled to find a developer that understood their ambition and need, they started one themselves. Their development arm is now actively supporting them and other community groups to build community-led housing.  'Safe's' mission is for all in the locality to 'live in a happy, healthy neighbourhood' and their community-led regeneration plans are set to deliver on exactly this.
Next, we visited Granby Four Streets Community Land Trust. Granby, is a multicultural area of Liverpool that once had thriving businesses and a tight, ethnically diverse community. However, socio-economic challenges faced the community during the 70s and 80s, leading to the withdrawal of businesses and people. Pressure then came from the council to demolish the neighbourhood, which increased when the Housing Market Renewal Initiative (HMRI) was set up. Granby residents resisted starting, in the 90s, with a resident association and now Land Trust. Together they have built a movement that has not only stopped the demolition of houses, but developed Turner award-winning homes, the 'winter garden' community space, a bustling market, and artist workshops. Hazel, a co-founding member of Granby Four Streets CLT, remarked that their work has always been about "making it a nice place for people to live again" and spoke passionately about her belief in the area and its people.
Finally, we visited Homebaked Community Land Trust. Oakfield Terrace, a row of nine terraced houses, and a bakery were demarcated for demolition under the Housing Market Renewal Initiative. But as the Housing Market Renewal Initiative programme slowed to a halt, the 9 boarded-up houses of Oakfield Terrace were left empty and unfinished. The community stepped up; initially supported by artist Jeanne van Heeswik's project 2up2down, they started to imagine and deliver change. The bakery 'Homebaked' was re-opened as a co-operative in 2013 and re-built itself as a successful community bakery. Homebaked CLT have successfully developed and leased the flat above the bakery and plans for the development of nine houses on Oakfield terrace are now underway.
Feedback from the Communities Creating Homes team:
"Having been very familiar with the City of Liverpool over several years, to see the work and energy of the groups and projects we visited was truly inspiring. In the most trying and difficult of contexts, we were shown a real glimpse of the 'art of the possible' and how by showing real determination, drive and imagination, solutions to a range of housing, social, physical and economic issues are being led by the community and for the community. It was a real pleasure and privilege to see and meet those people and groups that are working so hard to bring forward their visions and aspirations with their communities, not to mention the usual and exceptionally warm Liverpool welcome. I was and am massively energised by what I saw, experienced and felt having learned a great deal about the need and way to challenge convention and break the mould to bring about long lasting and deep seated change that will be invaluable to my work here at Cwmpas in terms of what I do and more importantly why and how I do that work with community groups across Wales"
Jonathan Hughes, Community Led Housing Advisor (Development)
"I left our visit to Liverpool feeling genuinely inspired about what community groups I am working with in Wales could achieve.  Homebaked, Granby4Streets and Safe Regeneration were exciting examples of social entrepreneurship and CLH in action and there are groups in Wales who want to create and improve the places they live in similar ways despite the geographical differences."
Claire White, Community Led Housing Advisor
Our thanks go to the folks at Safe Regeneration, Breaking Ground CLH Hub, Granby 4 Streets and Homebaked for their warm welcome and insights into CLH in Liverpool!