Hack to the future
8 September 2022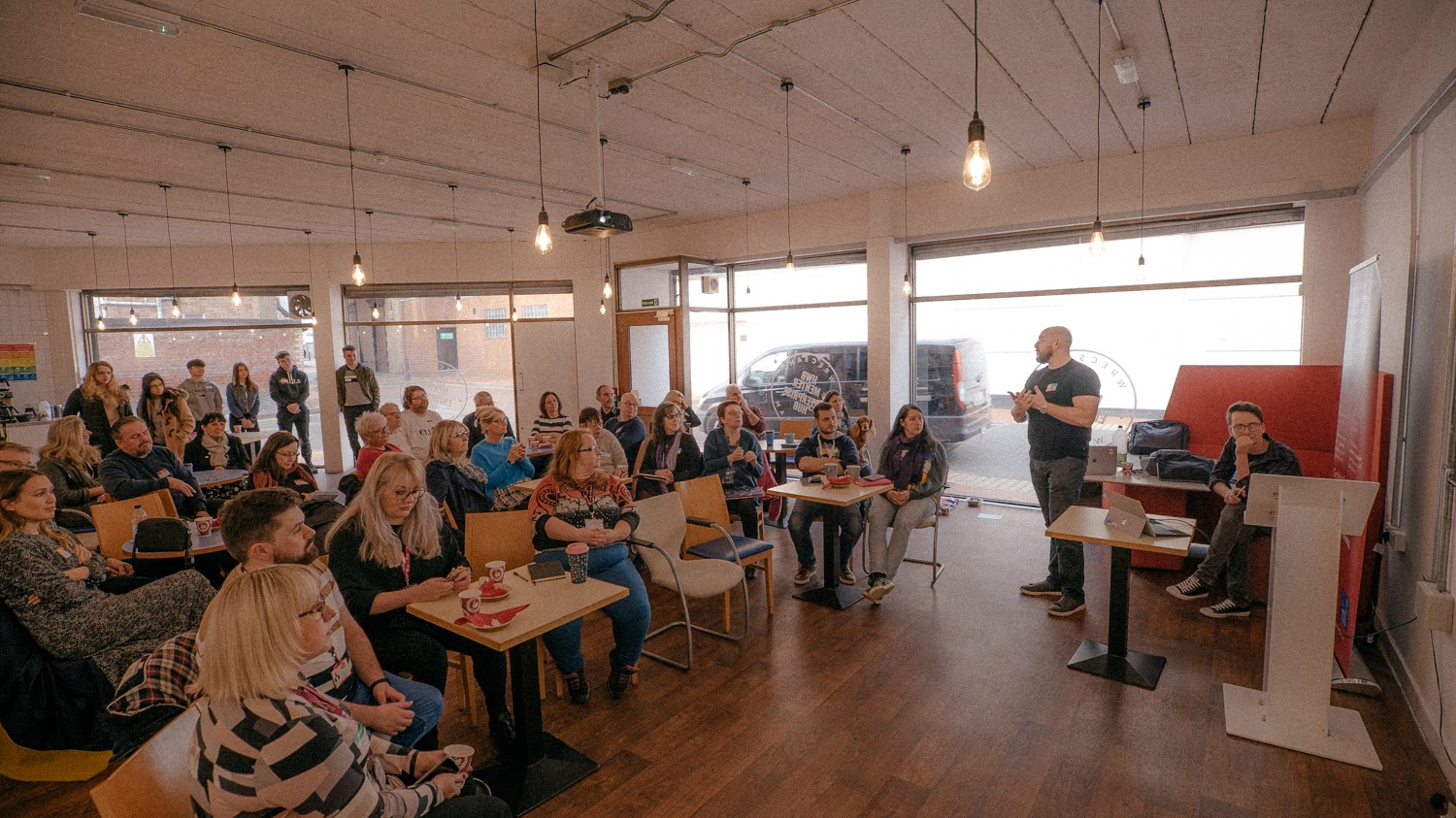 Inspiring social entrepreneurship by reimagining the hackathon idea
Medieval quarry workers had a creed. In one sentence it linked their mundane occupation to something much bigger: "We who cut mere stones must always be envisioning cathedrals". Enterprise educators needs to ask of every activity they carry out, "What are we envisioning? What edifice will these skills build? What is the, the end goal for individuals, society, and our world?"
Our young people need a future of work that is meaningful, rewarding, creative, co-operative, sustainable, and socially responsible. They need, right now, models to emulate and patterns to follow to lead them there. They need much more than mere knowledge about social enterprise. They need to be captivated by a better vision for business. They need to develop skills that that serve that vision. They need to be moved to action.
How do we engage people now, especially young people, with the ideas of social entrepreneurship and the social business model? My answer to that has been to strip parts from the hackathon model and to build a social enterprise version of it that operates in a radically different way. I have called this the Hack of Kindness™.
Hackathon events, or "hacking marathons", are a feature of the tech world. A hackathon typically involves software developers, coders, designers, and other anorak wearing types working intensively together from problems to ideas and solutions over a 24- or 48-hour period.
As the concept has developed it has often included a competitive element, with pitching and prize money at the end of the hack. Hackathons are fertile ground for intensive working, networking, and focused idea, and product development. Hackathons have also evolved beyond the tech world to broader civic, health, and educational platforms.
The Hack of Kindness™
I have spent the last year reimagining and reframing the hackathon concept to inspire, energise, and engage people with social enterprise and social entrepreneurship. I have tested two Hack of Kindness™ models.
The first of these I will refer to as a "community-based" model.  This has been used in extra-curricular further and higher education settings, and in local and regional Hack of Kindness™ events with a wider demographic (open to students and anyone who wants to pitch in to benefit their local area). The community-based model looks at creating new social venture ideas to address particular social issues, with the potential for these to become businesses.
The second Hack of Kindness™ model has been a university level curriculum-based approach. With this one I have particularly engaged Masters' level students at Cardiff Business School in creating new development plans, strategies, and campaigns for start-up social businesses, but the model has applicability for other educational levels and subject areas.
In the community-based model the onus is on participants moving from social problems to venture-based solutions based on their own business ideas. In the curriculum based-model, marketing and strategy students have worked on live problem solving and ideation to support existing social start-ups. The curriculum-based model has clear interdisciplinary application.
Broadening the hackathon methodology
The tech element has been a minor key in these two models. This is part of reimagining the hackathon model as a learning and development process and experience. The major emphasis has been placed on the co-operative and democratic way of creating and shaping new ideas. Digital can never be absent from this approach, but Hack of Kindness™ events are not synonymous with developing digital products for social good. Tech first solutions are not necessarily seen as the answer to every social problem.
What happens at a social enterprise Hack of Kindness™?
Whilst there are differences between the community and curriculum-based models, the essence of the hackathon experience remains the same. People work in teams, co-operating, collaborating, being creative, and developing ideas that will generate profit for good that can be reinvested to make a positive difference to communities.
To stimulate the teams as they work together, we run a series of sprint workshops on social enterprise, asset mapping, creative thinking, marketing and PR, funding and financing a new venture, teamwork, working with stakeholders, and pitching skills.
At the end of each event all the teams are invited to pitch their ideas to a panel of judges to receive feedback. Some people do come up with tech-based solutions, but others have fresh ideas on how community assets can be used, and others have focused on supporting disadvantaged groups of people.
Consistently teams have created ideas to tackle loneliness and social isolation, food poverty, challenges around mental and physical health, inequality, wellbeing, unemployment, and in positively bringing communities together. All these ideas have been refracted through the lens of the social business model.
Hack of Kindness™ events in numbers
When I launched the Wrexham Hack of Kindness™ on 5th March 2020 it was the first social enterprise hackathon event to be held in Wales. It was a 12-hour hack with 42 people held at the Enterprise Hub in Wrexham. This was followed, a week later, with another 12-hour hack, this time with 90 students from Cardiff University.
Since then, I have run online hacks over five or seven days (either during the day or over evenings to suit different audiences). These have included community, curriculum-based, and extra-curricular events.
Partnership working has been crucial to making this happen. Each event has been hosted or supported by Enterprise Hubs, Enterprise Champions at FE and HE institutions, Social Business Wales New Start and Cwmpas staff, Big Ideas Wales, academics, social entrepreneurs, and the funders UnLtd, Community Foundation Wales and Social Investment Cymru (WCVA).
Most importantly the events have been attended by participants from all walks of life and all ages from across Wales, or who are studying in Wales, who love their communities and who want to see positive new social ventures starting up.
"This is not a competition"
The big difference between the community-based Hack of Kindness and other types of hackathons is that it is not a competition. There is no prize money. Nor are we looking for the 'best' idea as 'best' is not a moral category. I wish that I could say that this approach was clear to me from the start. I had an epiphany whilst speaking at opening session at the first Hack of Kindness™ where I knew that the competitive element really was alien to the ethos of what we wanted to achieve.
Instead of looking for a winning idea at each event we want as many good ideas to emerge as possible, and people working in a co-operative atmosphere with a focus on doing good in communities across Wales. This transforms the pitching part of the event into something celebratory as the community of people brought together for the Hackathon recognise the potential to do good from a wide range of ideas.
Even though the Hack of Kindness™ is not a competition it is a catalyst for people to take their ideas and receive business support and help towards gaining funding. This is exactly what we have seen in some of the outcomes from running social enterprise hackathons.
The FE Colleges' Hack of Kindness™
In twelve months of breaking new ground, the most recent event brought together 85 learners from five colleges across Wales for an online two-day Hack of Kindness™ from 8-9th February 2021. The event was based around developing social business ideas to support our communities as they recover from the pandemic. The students who took part learned about how social enterprise works and developed their own social venture ideas. As they did this, they were also developing vital employability skills.
It was an intense two days with pitches based around equine therapy, dog products, mental health apps, cycling, supporting families who may not be able to afford sports equipment, autism and health and wellbeing cafés, supporting care homes with iPads, a café supporting young people with additional learning needs into employment, and a whole lot more.
The reflections from learners at Coleg Cambria give some insight into the event:
"This was an opportunity to find out more about running a business, it was a good challenge and we enjoyed it. We all came up with the idea for a social enterprise and wanted the profits to be put towards the wages and a charity for disabled people, which received a lot of positive feedback." (Riccardo)
"We think disabled people should have the same opportunities in employment as everybody else. Presenting in front of the judges was quite nerve racking as we were against the clock, but they were pleased with our idea." (Ben)
We have already seen some of the participants approaching Social Business Wales New Start for support in setting up as new social enterprises.
The Hack of Kindness™ philosophy and ethos
At the heart of the Hack of Kindness™ methodology are four core beliefs:
Co-operative social entrepreneurialism
This approach challenges individualistic entrepreneurialism and offers an inclusive team based alternative. It is co-operative and democratic, believing that good ideas can come from anyone and that the responsibility for decisions and ownership is shared. The message to everyone who takes part is "Your voice, your ideas, your gifts, your passion, all matter and can make a difference".
The importance of having skin in the game
Instead of a passive environment where you gain chunks of knowledge about social enterprise this model is about action learning in a fast-moving environment. You cannot be a passenger at a Hack of Kindness™ event; it demands active participation under time pressures and the need to develop a pitch. Pedagogically this is very significant.
A better hierarchy of business priorities
In this methodology generating income serves a social mission and is not an end in itself. We inspire the kind of entrepreneurship that begins with a social conscience and plots a positive, secure, and rewarding career path to follow, but does not place social and environmental good as optional extras. If the story of entrepreneurship up to this moment in time has largely been about the success of wealth creators, we can correct this mistake as we go deeper into this century by committing enterprise education to a better hierarchy of business priorities.
Co-operation beats competition every time
We have inherited a way of thinking about business that is quick to speak about competition and perhaps slower to speak about co-operation. Not only do we need to re-evaluate the choice architecture of that mode of thinking but through this methodology we can introduce people to a positive and generous experience of working together, and a collaborative mindset to business and social change.
The Hack of Kindness™ model is a small detail in a bigger picture of embedding social entrepreneurship and social enterprise in our education system. But it is proving to be an effective way to creatively engage future changemakers with the community-based and curriculum-based models. Commenting on this approach, Dr Jane Lynch, Reader in Procurement at Cardiff University, has said, "This work is one of the few campaigns that will move the cog in the wheel".
Starting in April 2021 with a social enterprise hackathon for all the universities across Wales, we will see more and more people co-operating and engaging with social enterprise with skin in the game.
Martin Downes FRSA is the Learning and Development Programme Lead at the Cwmpas and the creator of the Hack of Kindness™. If you would like to find out more about opportunities for a Hack of Kindness in your community or organisation, email Martin at: martin.downes@cwmpas.coop