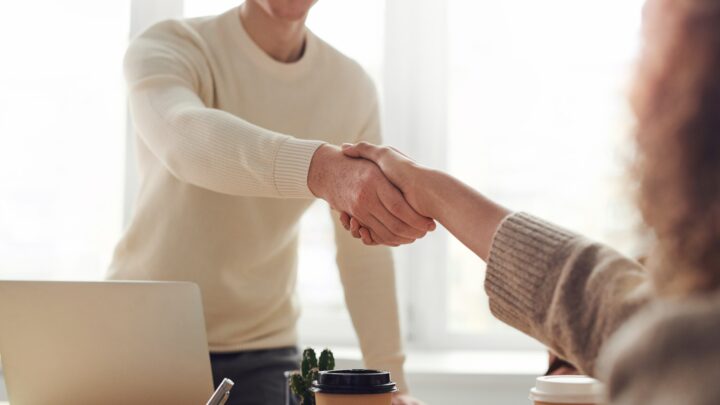 If you've decided that you would like to join our team at Cwmpas and have found a role on our recruitment portal which matches your skills and experiences, it's time to apply! We have explained our recruitment process below so that you know what to expect, and what we are looking for.
Stage 1: Submit your application form
First, you will need to take the time to complete our online application form which asks for your personal, employment and referee information.
As part of the application we also ask some specific competency-based questions which relate directly to the requirements of the role. This part of the application process is likely to take the longest to complete.  It is also the most important part, as it is where we learn most about your skills and experience in relation to the role. Don't be modest here, and give us examples wherever you can!
What we're looking for…
At this stage we are looking for candidates to show how closely their knowledge, skills and experience correspond to the criteria within the 'About You' section of the job description, but also that they will be a great addition to our fabulous team.
It is really important to us that our people share our values, so please try to show us this side of yourself too. Of course, we are also looking for an application that is well written with good spelling and grammar – so as a tip, always use spell check!
What happens next?
Application forms are then reviewed by a shortlisting panel which usually includes the recruiting manager and a member of the People and Culture team. We generally aim to shortlist within 7 days of the closing date. Your responses to the competency-based job questions are scored based on your how well you have demonstrated that you meet the requirements for the role.
We use a "blind" shortlisting process. This means that applications are scored anonymously – the shortlisting panel do not see any personal details about the applicant, including names. This helps us to ensure that our recruitment process is free from unconscious or conscious bias, and applications are scored solely on merit.
We communicate with all applicants through emails which are sent via our recruitment portal.  If you are shortlisted for the role, your interview invitation will be sent via the recruitment portal and will come through as an email. If you are not shortlisted on this occasion, we will let you know (also via the recruitment portal), so keep an eye on your inbox, including your junk mail folders!
We recognise the value that disabled people can bring to our business, and we demonstrate this through our accreditation as a disability confident employer and ensuring that our recruitment process is inclusive and accessible.  We ask people about disabilities and any reasonable adjustments that we can make to help disabled people to participate fully.  We also commit to offering an interview to any disabled people who meet the essential criteria for the role.
Stage 2: The interview
Your interview will take place either remotely (e.g. using MS Teams) or in person, depending on the role and the geographical locations of candidates and panel members.
Interviews will generally consist of questions which are based on the requirements of the role. They are designed to find out more about you, your skills and your experience.  Our panel will prepare the questions in advance, and we will ask all candidates the same questions in order to give everyone the same opportunity to shine.
In addition, we may ask you to complete a task – this may be something to undertake on the day, or something that that we ask you to prepare in advance (we will always let you know and give you at least a week's notice if this is the case).  Sometimes we ask you to complete more than one task.
We always try our best to make candidates feel at ease, but the panel understand that interviews can still be nerve-wracking! Remember to be yourself, this is an opportunity for you to ensure we are a suitable organisation for you, as much as you are the right candidate for us, so come ready with any questions you might have, there will be an opportunity to ask them at the end of the interview.
What we're looking for…
All candidates need to make sure they have a good understanding of the role by having thoroughly read through the job description. As many of our questions are competency based, at this stage we are looking for candidates to expand on their answers as much as possible, drawing on their past work, educational, or other experience, so come prepared with some examples. But don't worry – if you do end up struggling with an unexpected question, it's perfectly fine to take a little time to think. We don't want you to feel rushed and would much prefer a considered answer than a fast one!
By way of a helping hand – when answering competency-based questions, the STAR method is a sound way of structuring your answers:
Situation – what was the background, or context?
Task – what was the main challenge facing you?
Action – how did you go about solving it?
Result – what happened, and what did you learn from the situation?
Don't be afraid to ask for the question to be clarified if you don't understand it the first time around. We want to get to know you, and that will only happen if you understand what you're being asked.
What happens next?
Responses to interview questions and tasks are scored using an objective scoring process with the interview panel look for demonstration of the skills and experience required in the job description.
We aim to inform all candidates of the outcome of their interview as soon as possible. However, if there is a delay in being able to give an outcome we will communicate this to you so that you know when you can expect to hear. We appreciate that waiting for interview news can be an anxious time.
We generally aim to fill our roles in a one stage interview, however, if appropriate we will invite suitable candidates in for a second interview, or for a chat to clarify any outstanding queries.
Stage 3: The offer
If you are successful, a member of the interview panel will call you and offer you the role! We will tell you about our main terms and conditions of employment and follow this up with a formal written offer.
We will carry out our normal pre-employment checks such as requesting references, checking that you have the to work in the UK, checking qualifications and any declarations of interest, along with any required DBS checks (see below), and once we have all the formalities in place and we have agreed a start date we will issue a formal contract of employment.
We will then begin preparing your induction programme, which includes access to an online induction portal that you are welcome to review prior to your start with us. We hope that this will help you to familiarise yourself with Cwmpas and provide the support you need to get up to speed and comfortable in your new role as soon as possible.
If you are unsuccessful following an interview with us, we will also let you know as soon as possible. Don't let an unsuccessful interview dishearten you, we are happy for you to contact us and request feedback for you to take on board for the next role you apply for.
Here's what one of our recent new starters has had to say about Cwmpas' recruitment process:
Samina Ali – Digital Programme Consultant:
"The process to join Cwmpas has been like a breath of fresh air, the onboarding experience has been brilliant, with continuous engagement by all the team. I have joined the Business Growth & Consultancy team, who have given me a warm welcome, its so nice to work with colleagues who are equally as ambitious and passionate about making a difference. We live and breathe our core values in everything we do and that was why I chose to work for Cwmpas."
Interview FAQs
What is the dress code?
We don't have a formal dress code, we trust people to dress appropriately for their day.  When we have meetings with outside organisations, some people choose to wear formal business wear, and others choose "smart casual" dress.  We would recommend that you take the same approach to your interview, but the most important thing for us is that our people feel comfortable whilst maintaining a professional appearance.
What do I need to bring?
If you have been asked to prepare a presentation and you have an in-person interview, it's important to bring a copy of the presentation with you on a memory stick.  It can also be helpful to provide handouts or copies of the presentation for the panel. A pen and paper whilst not essential can be useful in order to jot down any notes you may wish to make during the interview.  Feel free to also bring anything which demonstrates some of your skills.
If your interview is remote, make sure you know how to use MS Teams, and if you have been asked to prepare a presentation ensure you know how to use the screen sharing function.
I'm really nervous, what can I do?
Interviews can be nerve wracking, but remember that the interview panel are human, and want to get the best out of you, and therefore both they, and any other staff you meet during the interview process will try to put you at ease as best they can.
Interviews are a great opportunity to talk about your skills, so be prepared, try to be yourself and don't worry. Remember, interviews are as much about you making sure that the role and Cwmpas is right for you, as it is us making sure that you are right for us!
Criminal records disclosures
We don't ask applicants about criminal records unless we are considering making an offer of employment. A criminal record is not always a barrier to employment. For information about how we manage criminal records and disclosure information, please read our policy here.
DBS (Disclosure and Barring Service) Checks
Occasionally a role may be subject to a successful candidate undertaking a DBS check.
Should a DBS check be necessary for the role, it will clearly be stated on the job documents so you will see this before starting your application process.
Employers cannot apply to the DBS directly for a criminal record check, so we use an umbrella organisation which acts on behalf of the Disclosure and Barring Service (DBS) to process all criminal record applications for businesses and private and public organisations.
A DBS check will only be carried out where the reasoning for its requirement for the role has been submitted to the DBS umbrella organisation and verified as justifiable for the role.
What is a DBS check?
A DBS check is an official record stating a person's criminal convictions. They help to ensure that we as an employer are making the right decisions during the recruitment process.  DBS checks are especially important in finding suitable candidates to work with vulnerable groups, including children. Upon completing the check, we will review your DBS certificate and decide on the next steps.
We comply with the requirements of the DBS Code of Practice, which you can find here.
Types of DBS checks
There are four levels of DBS checks: basic, standard, enhanced and enhanced with a barred list check.
Basic DBS check
Basic checks can be used for any position or purpose, including employment.  A basic certificate will contain details of convictions and cautions from the Police National Computer (PNC) that are considered to be unspent under the terms of the Rehabilitation of Offenders Act (ROA) 1974.
Standard DBS Check
A standard check will contain details of both spent and unspent convictions, cautions, reprimands and warnings that are held on the Police National Computer, which are not subject to filtering.
Enhanced DBS Check
The enhanced check is available for specific duties, positions and licenses included in both the Rehabilitation of Offenders Act 1974 (Exceptions Order 1975) and the Police Act 1997 (Criminal Records) regulations, for example, regularly caring for, training, supervising or being solely in charge of children, or specified activities with adults in receipt of health care or social care services.
An enhanced level certificate contains the same PNC information as the standard level certificate but also includes a check of information held locally by police forces.
With an enhanced check, an employer can also request to see whether a potential or current employee is listed on the Children's Barred List or Adult First list. This ensures that a candidate is not barred from working with vulnerable groups but can only be requested if the candidate or employee will be involved in a regulated activity.